When it comes to curb appeal – the front door says it all!

There are many ways you can invest in home improvements, but which ones pay off when you go to sell? Ask all the experts and they will all tell you kitchens and bathrooms are the 2 areas that give you best return on investment (ROI). Today, however, I am addressing first impression and curb appeal!
Entry wall doors and garage doors!
I must admit since visiting Charleston, South Carolina, several years ago I became obsessed with the architecture and attention to entry ways. Madison, Indiana also has many homes with doors to die for. When I was there this Spring, my obsession took over. I was polite, but about every few homes I said, "Honey, can you please stop (again)." "Just one more!" "Last one I promise!" "OMG – gotta get this one!" (Jamie you are a patient man – that is for sure!! Thank you for going with the flow!!) It wasn't planned but I did photograph a lot of doors that day and had fun doing so.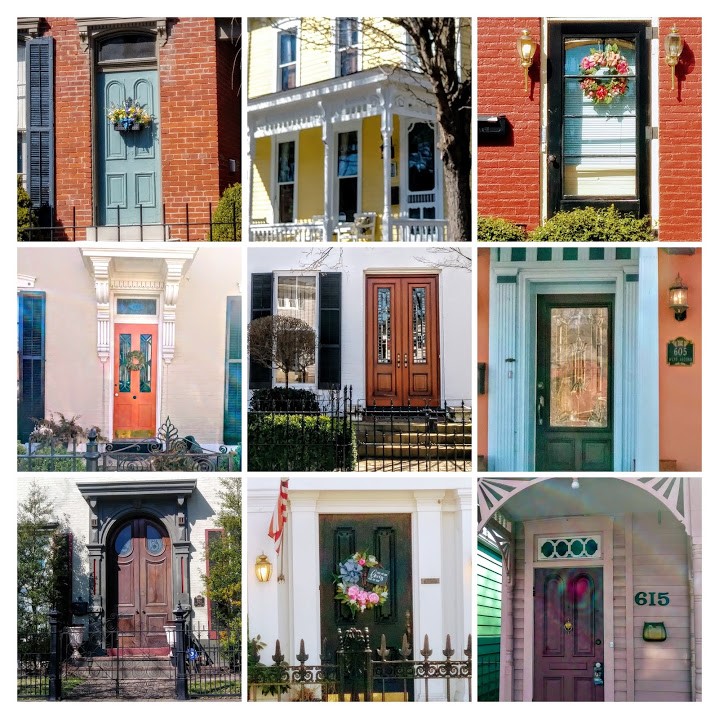 Here are a few (see picture at right):
A new front door, lights, welcome mat and a few planters speak volumes when it comes to curb appeal – selling fast and selling for top dollar. But why wait for a face lift just to impress buyers?
Do it now and enjoy the way it welcomes YOU home after a long day. Finding the right agent (like me) is a good place to start because agents (like me) have connections with all sorts of contractors and handymen (and women). Not only that – but I love a bargain and will help you with a face lift that won't break the bank! It's easier than you think!
#CurbAppeal #CallKarenG